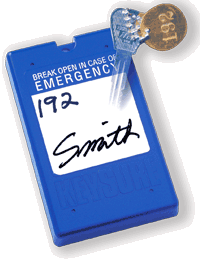 Born to be broken.
About Us
More than 15 years ago, KeySure's Key Controller received a patent as a way of physically securing keys. The invention grew out of the necessity of leaving a key with a landlord—which benefits building management—while allowing tenants to be proactive in maintaining their privacy.
Realizing that these same problems exist within all residential buildings, large or small, we expanded our product's use by developing our Key Control System—a simple yet effective accountability system with personal oversight, proven year after year in many fine buildings.
We have since sold our KeySure Key Controllers to federal, state and local governmental agencies, real estate management companies, corporate and industrial security, hospitals, hotels, universities, prisons, guard companies, utility companies, museums and jewelers, along with a host of various organizations. A large part of our business is with industrial security users. Individuals buy them by the dozen to control small quantities of keys. See a partial list of our customers here.
Our products have benefited individuals, institutions, governmental and corporate entities in ways beyond the area of key control and security. With the advancement of technology, we expect our clients will discover new uses of our products never before considered.
Contact us if you are interested in exploring how the KeySure KeyController could work for you and your organization. We would be glad to write a proposal and submit a sample to demonstrate to decision makers.
OUR UNCONDITIONAL GUARANTEE: If you are not completely satisfied with your purchase, return any of our products within 30 days for a complete refund. No questions asked.
For your convenience, all our products are available through your local locksmith and locksmith distributor, or you can buy directly from us. There is a list of distributors on our Contact Us page. New dealers are always welcome.