The KeySure Key Control Systems
Highly versatile for keys not accessed on a regular basis, the KeySure Key Control Systems incorporate the KeyController as its basic unit, providing a simple yet effective accountability system when combined with personal oversight and a written enforced security policy.* (See below for downloadable forms.) Contents are physically protected within a hard plastic shell, then organized and stored according to the users' needs.
Ideal for residential real estate, KeySure is the only system in which the tenant participates in controlling their key(s). Because each key box must be signed, then broken to gain access to its contents, false accusations can be prevented. The evidence of a key being duplicated/impressed and then later returned would be obvious. The KeySure System is a "win-win" security solution that benefits both the tenant and the landlord.
From "The New York Times Real Estate" section:
"…Tenants who feel uncomfortable about giving an apartment key to their landlord can use what is known as a KeySure Key Control System… The system uses a sealed plastic storage container that must be broken to remove the key, providing the tenant with an indication that the key to his apartment has been used." www.nytimes.com/2006/01/15/realestate/15qa.html
* Downloadable documentation (PDF):
Storage Components for the KeySure Systems – Page 1
Go to KEYSURE SYSTEMS Page 2 →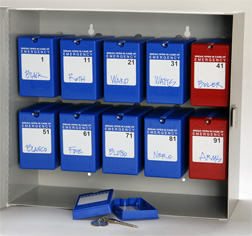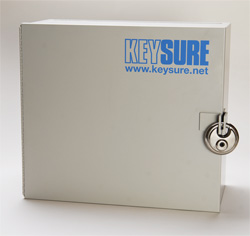 #C81517
Hanging Wall Cabinet
For quantities up to 100 units, we recommend our 100 unit steel wall cabinet. It locks with a padlock. KeyControllers are stored on 10 long pegs. Each peg holds 10 units and is loaded in numerical order. Shown with padlock on left.
| | | | |
| --- | --- | --- | --- |
| Product ID: | #C81517 - Hanging Wall Cabinet | Finish: | Grey paint with logo |
| Price Each: | $380.00 | Locking: | Padlock |
| Capacity: | 100 KeyController units. Shipped empty. | Weight: | 25 lbs / 11.34 kg |
| Construction: | 16 gauge steel | Shipping: | FREE SHIPPING in USA lower 48 states |
| Dimensions: | 17 x 15 x 8 in / 43.2 x 38.1 x 20.3 cm | Delivery: | Ships same day. Backorders 3 to 4 weeks. |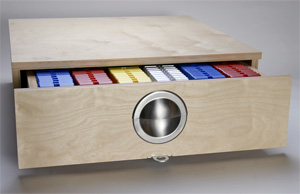 #CD1W
Single Drawer Cabinet
Our new addition is our single drawer modular unit that holds 150 units. Key boxes are lined up in neat rows in numerical order. This unit can be stacked or used side-by-side. Constructed in attractive heavy-duty Baltic birch with full extension glides. In a clear natural finish, it locks with a padlock. Smaller than the steel single-drawer model yet with the same capacity, it was designed to fit in more places. Its footprint is less than 24 inches square.
| | | | |
| --- | --- | --- | --- |
| Product ID: | #CD1W - Single Drawer Model | Finish: | Natural clear finish |
| Price Each: | $660.00 | Locking: | Padlock |
| Capacity: | 150 KeyController units. Shipped empty. | Weight: | 50 lbs / 22.7 kg |
| Construction: | Baltic birch plywood, dovetail joints | Shipping: | FREE SHIPPING in USA lower 48 states |
| Dimensions: | 23.125 x 23.125 x 8 in / 59 x 59 x 20.3 cm | Delivery: | Ships same day. Backorders 3 to 4 weeks. |