The KeySure KeyController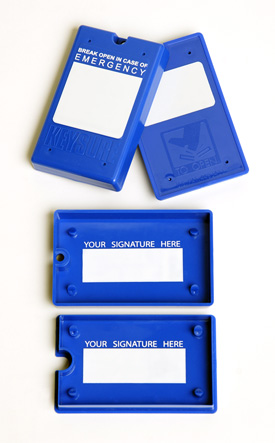 #101B Opaque Blue
Only blue KeyController features labels on each surface.
Shown: two units displaying internal & external labels.
BUY NOW→
An invention so simple sometimes it defies explanation in terms of its usefulness. Incomparable to anything else.
The KeyController is our stand-alone product that protects all kinds of keys. It takes the concept of key control and broadens it from physical security to IT (Information Technology). By itself, it is the only portable form of key control that can also be fixed to a surface or be passed from person to person without breaching the security of the key or contents. It is excellent for physical oversight of individual master keys in residential buildings and institutions.

Learn how easy it is to operate.
See How To Use a KeyController.
From ice4safety.com:
"The KEYSURE System — This unique and useful device has been around for over 15 years in use by people who want a cost effective, easy to use and verifiable system of protecting access devices or important information…" ice4safety.blogspot.com
From "Spy Review":
"There are situations when you need to store away an important key or some other form of entry... KeySure key controller can... be used to stop those responsible for maintaining emergency access to tenants' dwellings... from gaining unauthorised access and yet can have access to them in case of an emergency..." www.spyreview.co.uk
"Reed's Security Reporter", a former leading trade journal, gave the KeySure KeyController the highest ratings in these categories: concept, ease of use, design, construction and tamper-proof.
The KeyController also plays an essential role in our Key Control Systems. LEARN MORE→
COLOR-CODED KEY CONTROL: Another KeySure key control innovation! We've added two new colors and now offer red and yellow to our original blue and clear. The additional colors allow one to prioritize keys by color.
Price Each:
$6.60
Construction:
Styrene plastic
Weight:
2.5 oz (70 gm)
External
Dimensions:
3.0 x 4.75 x 0.75 in
(7.6 x 12.0 x 2.0 cm)
Internal
Dimensions:
2.5 x 3.5 x 0.5 in
(6.4 x 8.9 x 1.3 cm)
Packaging:
Plastic bag
Shipping:
TO BE DETERMINED
Delivery:
Ships same day
Special Orders:
Custom colors, imprinting, laser etching & consecutive numbering available. Minimum order 1000 units.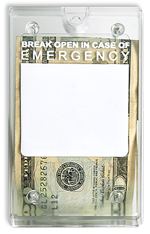 #102C
Clear/Transparent
BUY NOW→
#103R
Opaque Red
BUY NOW→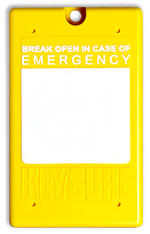 #I04Y
Opaque Yellow
BUY NOW→