Why KeySure
Some Thoughts on Key Control
We believe in questioning authority and insist on accountability. Why turn over one's front door key based solely on trust? Why would building management use a system that did not serve both the tenant and management, and prevent false accusations? Why would a landlord want the key in the first place?
There are many reasons, but legal liability is high on the list. We looked at what was available to the landlord and found not much other than the traditional key cabinet, which only serves the landlord. You know, that metal box that hangs on the wall with keys inside, sometimes homemade, essentially a filing cabinet for keys, offering no security or accountability.
Times have changed, but the standard key cabinet is still widely used.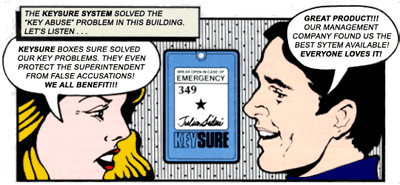 There is a difference between residential and industrial/institutional key control. In a residential building, tenants' keys are rarely or ever accessed. With the advent of computers, electronic key control cabinets appeared. These devices were designed for industrial and institutional use. Applying them to residential real estate management is technological overkill, putting an unnecessary technical burden on building service employees. Electronic key control certainly has its place, but the KEYSURE SYSTEM was specifically designed to meet the internal security needs of residential multiple dwellings.
The KeyController has universal applications.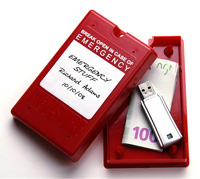 The last few decades have produced many technological advances, and we feel our KeyController has become the bridge between the world of physical security and the intangible world of electronic security by physically protecting and preventing the surreptitious use of access cards, alarm codes, IT passwords, PIN numbers, memory cards, flash drives, credit cards or any confidential data contained within. No other product can make this claim.
Anyone with a key is a potential customer.
Consider this as you're reading: we know you have keys. You are a potential customer, too. Think about it! The KeySure KeyController is the only key control device that any individual can employ, and the only economical form of key control that a locksmith can sell to a consumer. It's different from anything else in the marketplace. We do not compete with other products because we offer a unique solution that other products cannot match.
Instead of thinking outside of the box, we created a new one.