CLASSES
Our registration packet will provide you with all the class options. We offer a variety of classes for children 2-½ through 6 years of age. Several class options are available for each age group. Children are grouped according to age.
Orientation
In order to help the children make a gentle, happy adjustment to school, we use a graduated schedule for the first several sessions of school for our "Intro" and "Threes" classes. These classes are divided in half in order to give all children more individual attention during the first few days. This staggered start generates a positive, relaxed atmosphere conducive to quick adjustment to school. On the first day of school, parents attend with their children for a one-hour session.
Teacher/Student Ratios

Intro I & II
2:10
Threes
2:14
Intro III
2:08
Fours
2:14 to 2:17
Dependent on classroom size
Scribbles & Bits

Scribbles & Bits is a 4 to 6 week program designed for toddlers ages 1–2 years with a parent or other adult. Sessions are held in the morning or early afternoon. Children enjoy weekly 1-hour sessions that promote social, language, and motor skills via music, stories, and finger plays, utilizing equipment/materials designed for toddlers. Parenting issues are shared.
Pre-K Program (4D)

We offer a Pre-K Program designed for older 4-year-olds and young 5-year-olds who will not be attending Kindergarten in the Fall. This accommodates children who either miss the age cut off for Kindergarten (5 years by Oct 1) or who would be better served by another year of preschool. This Pre-K class provides a curriculum on a continuum. It builds on prior skills and presents age appropriate challenges, thus easing the transition between nursery school and Kindergarten.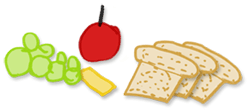 Lunch Bunch
We also offer a daily Lunch Bunch option for 3-, 4- and 5-year-olds. A child can extend the day with a supervised lunch period lasting 30–45 minutes.
Book Nook
Book Nook is an afternoon enrichment program designed to enhance language development and promote emerging literacy by focusing on several prominent childrens' authors and illustrators. Each month culminates with the children creating their own book based on the inspiration received from the authors and illustrators studied. This class meets on Wednesday afternoons at 12:05 to 2:35 p.m. from October through May and is open to children in any fours' class and to kindergarteners. Wednesday Lunch Bunch is required for those staying all day on Wednesday.
Kindergarten Enrichment (KE)

Kindergarten Enrichment is an afternoon enrichment program that offers an introduction to geography and celebrates cultures. They experience different customs, clothing, celebrations, learn about famous landmarks, etc. Multicultural awareness is developed through hands-on activities and intellectually stimulating experiences. The class meets on Thursday afternoons, 12:05 to 2:35 PM from October through May and is open to children in our 4's classes as well as kindergarteners. Thursday Lunch Bunch is required for those staying all day on Thursday.